Spains Premier Geocaching Shop. We are proud to be Spains First Authorised Distributor for Groundspeak.inc. Stocking a wide range of official Geocaching products.
We stock our own range of Geocaching products. Some feature Gordon our friendly Spanish Geko. Take a look and check to see what Gordon Gecko has been up to each week.
We are located in Spain, in the pretty village of Hondon de los Frailes just outside Alicante. Hondon de Los Frailes is located in the mountains with all the picturesque walks and trails. Surounded by the olive and almond groves. What better place to start your Geocache adventures
We carry a wide range of products from must have gear to unique novelty items. Everything to make the most of your Geocaching experience. If you are looking for a specific items please contact us and we will be pleased to assist you.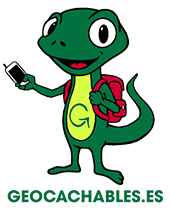 Say hello to Gordon Geko. He is our friendly Spanish Geko. Gordon loves to explore the mountains where he lives. Check in with Gordon to see what he has been up to this week.